Version 0.2.4 Screencast
2 Minutes Long

Version 0.2.4
Requires Mac OS X 10.5+
About PEMDAS App
PEMDAS is a simple but powerful calculator that lets you work with equations and variables.
It is designed to make calculating more efficient, and new and innovative features are being added that allow you to get work done faster and with less effort than other calculators.
Features
Mini Mode
Click on green zoom button in the upper left hand corner of the window, and the window will resize into a much smaller window.
Cocoa Based
Everything in PEMDAS is written in Objective-C and C, and for the most part the interface is composed of standard Cocoa controls. This way, you get many of the Cocoa benefits, such as spell check, customizable toolbars, and text areas that behave in a standard fashion. It is also a universal binary, and you don't need to install or fiddle with extra runtime environments to get it to load.
Equations
The most important feature of PEMDAS is working with equations. Simply type in an equation, hit enter, and you have the answer! Above the entry field is the equation history, where PEMDAS displays all your previous calculations.
Variable List
On the side of the application is the variable list. This lets you easily see all of the variables active in the current document.
Number Formatting
PEMDAS has several different kinds of number formatting, including float, scientific, and engineering. It also lets you specify the number of decimals or significant figures to display, and lets you add thousands separators.
Screenshots

Main Window.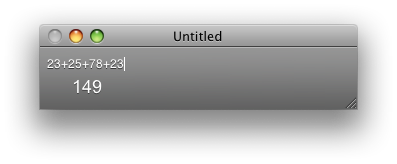 Mini Mode
Screencasts
Following are some of the screencasts for PEMDAS App:
Posted March 19, 2009, 2 minutes long
Posted January 30, 2009, 2 minutes long
Posted January 17, 2009, 3 minutes long
Posted December 22, 2008, 2 minutes long
Documentation
The PEMDAS User Guide is distributed with the program, and is located in the help menu. It is also posted below:
.pdf, 500kB